SGVM - VERTICAL MIXED FLOW PUMP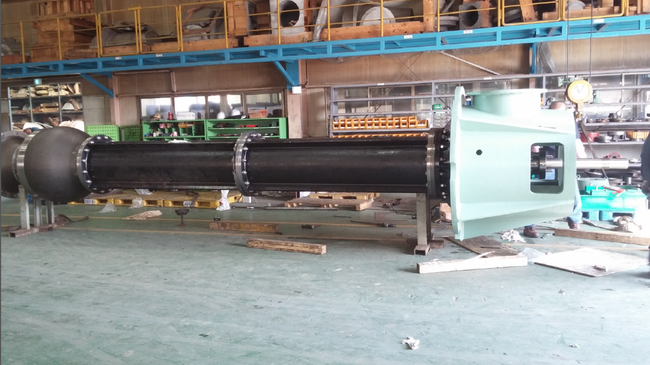 DESIGN

- Large Vertical pump, tested to ensure peak performance in this field.
- Pull out design allow easy removal of inner element of the pump for maintenance.
- Downtime and repair costs are greatly reduced when the worn parts are replaced.
- Diffuser recover head by straighting the flow from the impeller.
- Customized various pump speed and motor frequncy.
- Accurate models that match the customer's specification are tested before customized vertical pumps is created.
- Column and elbow is assembled in discrete component to provide intermediate guide bearings required-.
- Computational Fluid Dynamic Analysis.
- Critical Speed Analysis.
- Mechanical Design Analysis.

PERFORMANCE RANGE

- Capacity : 600~16,000㎥/hr
- Head : 5~80m
- Motor Power : 15~3,000Kw
- Discharge Diameter : 250~1,500mm
- Working Pressure : ≤ 10Kg/㎠
- Liquid Temperature : -20℃~80℃

APPLICATION

- Power generation cooling intake from the sea water.
- Irrigation.
- Waste Water Treatment Plant (industrial and municipal).
- Desalination sea water intake.
- Flood protection.
- Industrial service.

PUMP EFFICENCY DESIGNED BY CFD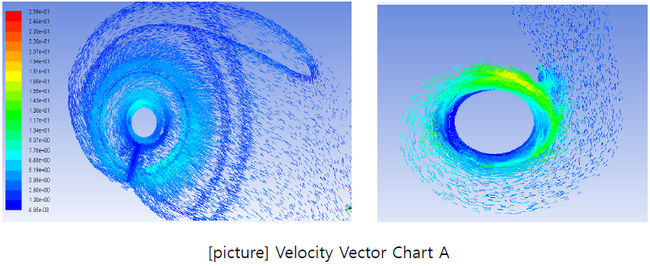 PUMP SECTIONAL DRAWING



| Name | Material. 1 | Material. 2 | Material. 3 |
| --- | --- | --- | --- |
| Column pipe | FC200+ni 3% | Cast Iron | Ductile Iron |
| Elbow pipe | FC200+ni 3% | Cast Iron | Ductile Iron |
| Impeller | SCS14 | 316Stainless Steel | 410Stainless Steel |
| Shaft | SUS316 | 316Stainless Steel | 410Stainless Steel |
| Shaft Sleeve | SUS316 | 316Stainless Steel | 410Stainless Steel |
| Guide Casing | SUS316 | 316Stainless Steel | 410Stainless Steel |
| Suction Bell | SCS14 | 316Stainless Steel | 410Stainless Steel |
| Coupling | SUS316 | 316Stainless Steel | 410Stainless Steel |
SELECTION CHART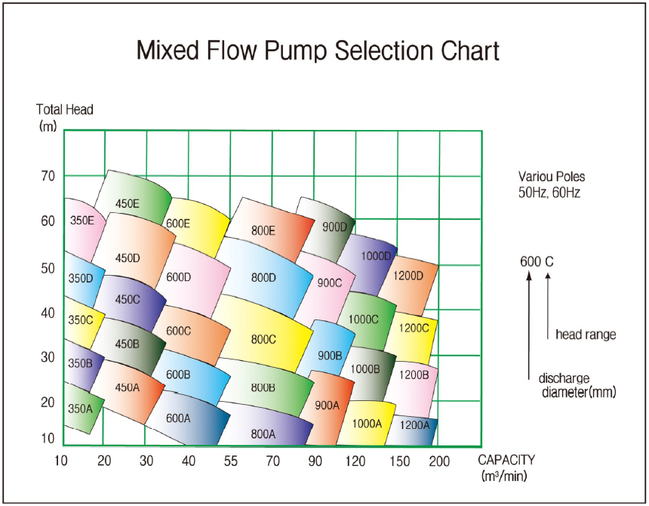 PERFORMANCE TABLE OF THE MIXED FLOW PUMP(50HZ)

Pump Model

Capacity
(㎥/min)

Head(m)

RPM
(min)
Motor Power
(Kw)

350A

14

12

1480

55

350B

15

30

1480

132

350C

17

37

1480

160

350D

18

48

1480

220

350E

18

60

1480

280

450A

30

18

980

132

450B

30

28

980

220

450C

30

44

980

315

450D

30

55

980

400

450E

30

64

980

450

600A

47

22

980

280

600B

47

28

980

355

600C

47

35

980

400

600D

47

56

980

630

600E

47

70

980

800

800A

63

21

740

315

800B

69

25

740

450

800C

85

38

740

710

800D

80

54

740

1000

800E

88

63

740

1250

900A

105

21

590

500

900B

105

33

590

800

900C

100

47

590

1120

900D

116

60

590

1160

1000A

133

22

590

800

1000B

110

25

590

800

1000C

140

39

590

1250

1000D

126

51

590

1600


CONSTRUCTION / DELIVERY PRACTICES